Itasca Consultants S.A.S.
Contact Us
Itasca Consultants S.A.S.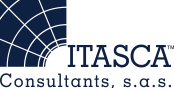 Phone: +33 (0)4 72 18 04 20
Email:

Website: http://www.itasca.fr/

Lyon
29 avenue Joannes Masset
FR-69009 Lyon
France
Rennes - Fractory
Bureau 27
Bâtiment 15, OSUR, Campus de Beaulieu,
263, Avenue du Général Leclerc
35042 Rennes Cedex
https://fractorylab.org/
Itasca Consultants S.A.S. (ICSAS), based in Lyon, France, was created in 1991. ICSAS provides services in many fields of geomechanics: Civil, Mining, Energy and Material processing.
Our engineers and researchers team helps Itasca clients at all stages of the project: from the understanding stage through the development of collaborative research projects, to the validation of their project (complex geometries, phasing, and coupling effects), including financial and/or technical optimization. We rely on a solid expertise, dating back nearly 30 years, to help customers in the design of their numerical models.
Through a long and close collaboration between ICSAS, Rennes 1 University and the CNRS, a partnership agreement for the creation of a Common Laboratory was signed at the end of 2017. The "Fractory" Lab was inaugurated in November 2018. Its purpose is to develop methods and contribute to Research & Development programs for understanding fractured rock environments, through the study of Discrete Fracture Networks, and of their consequences in terms of rock mass macroscopic mechanical and hydraulic properties.
Contact Us