Itasca Consulting Canada Inc.
Contact Us
Itasca Consulting Canada Inc.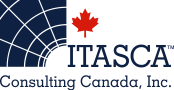 Phone: (705) 522-2697
Fax: (705) 522-6564
Email:

Website: http://www.itasca.ca/

888 Regent St., Suite 205,
Sudbury, Ontario P3E 6C6
Canada
Itasca Consulting Canada Inc. (ICCI) was established in 1999 as a merger between the consulting operations of Richard Brummer Associates and Itasca.
ICCI provides consulting services to civil and mining clients in the fields of applied geomechanics, risk assessment, numerical modeling, mining seismology, instrumentation, mine design and drilling and blasting.
Technical direction is provided by Dr. Richard Brummer P.Eng. who is a "Designated Consulting Engineer" by Professional Engineers Ontario, with over 35 years of experience in geomechanics applied to mining and civil problems.
Complete details on the company, its services and capabilities, and contact and staff information are available on the company web site, www.itasca.ca, or please send email to: itasca@itasca.ca.
Contact Us